JE30R4SCB

DC12V low-voltage radio motor, with internal battery, rechargeable by solar panel or charger
What does the JE30R4SCB radio motor offer to rolling blinds?
Ø25mm motor, with which you can replace the manual mechanism of a roller blind, to easily motorize it
JE30R4SCB has a battery inside rechargeable battery through a 12V charger or solar panel, so it doesn't need to be connect into standard power (wiring free), facilitating its installation
High speed motor, to get a quick screen opening or closing
All settings are managed from any of R4's remote controls
End limits setting from the remote control
3 intermediate points created automatically
User comfort point easily programmable by the remote control
Allows as maximum 15 remote controls, which can be added from a previously recognized one or from the own motor
You can command this motor locally or from anywhere else. What do you need? modem Wi-Fi in 2.4ghz at home; the Smart Life app installed on your smartphone or tablet (android or iOS); and the GWE hub. In addition, it is also compatible with Alexa and Google Home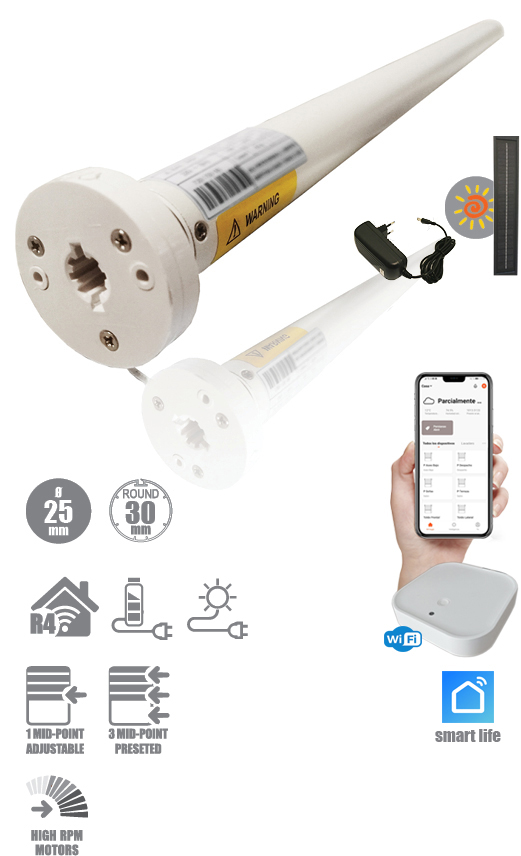 Main features:
Motor JE30R4SCB, having a diameter only in Ø 25mm, can be used to motorize a large part of the most conventional roller blinds, even those that are already manufactured. By choosing the correct axle adapter, the motorization of a manual curtain is simplified by removing the chain mechanism, inserting the motor, replacing the side cover and hanging the roller blind ...
Place it where you want and forget about wiring:

Motor JE30R4SCB, being a product built in battery and as it can receive all the commands wireless from a remote control, does not need any wiring. In addition, is ver easy to set easy or complex groups or rolling blinds, always carried out from the remote control (EMTSTEEL4, TITANIUM5, ...) in a really easy way
Motor with multiple intermediate positions:

Motor JE30R4SCB, it has 3 intermediate positions that are created in automatic mode (positions available in the EMSTEEL1M, TITANIUM1, TITANIUM5, TITANIUM10 transmitters), in addition to a fourth preferred user point easily created from the remote control and the standard upper and lower end points
Motor JE30R4SCB with its internal battery can be recharged with a charger in 16V. To do it easier for user, it can also be recharged through the solar panel that enjoy proposes to be used inside the window. Thanks to its two suction cups, the panel can stick directly to the glass, making recharging easy, when necessary without any wiring and avoiding the user intervention
Technical data:
| | | | | | |
| --- | --- | --- | --- | --- | --- |
|   | JE30/1.5R4SCB |   |   |   |   |
|   NM | 1,5 |   |   |   |   |
|   RPM | 25 |   |   |   |   |
|   TURNS | ∞ |   |   |   |   |
|   V~HZ | DC12V |   |   |   |   |
|   A | 1,0 |   |   |   |   |
|   W | 12,1 |   |   |   |   |
|   MIN | - |   |   |   |   |
Main shaft adapters:
ST03001 - Round int. 26,8: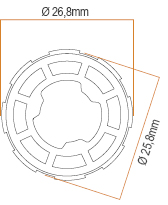 ST3002 - Round int. 28,4:
ST3003 - Round int. 34,8:
ST3004 - Round int. 35,9:
ST3007 - Round int. 37,2:
ST3008 - Round int. 39,4:
Main motor brackets:
Soporte para lateral motor - modelo 1:
SP3001 Placa en cruz motor JE30 para soporte lateral

AS1902 Soporte lateral en cruz, para motor JE30, JE40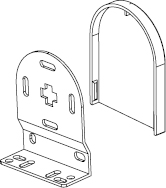 Soporte para lateral motor - modelo 2:
Soporte para lateral motor - modelo 3:
Soporte para lateral contera:
with enjoy, command your home

wherever you are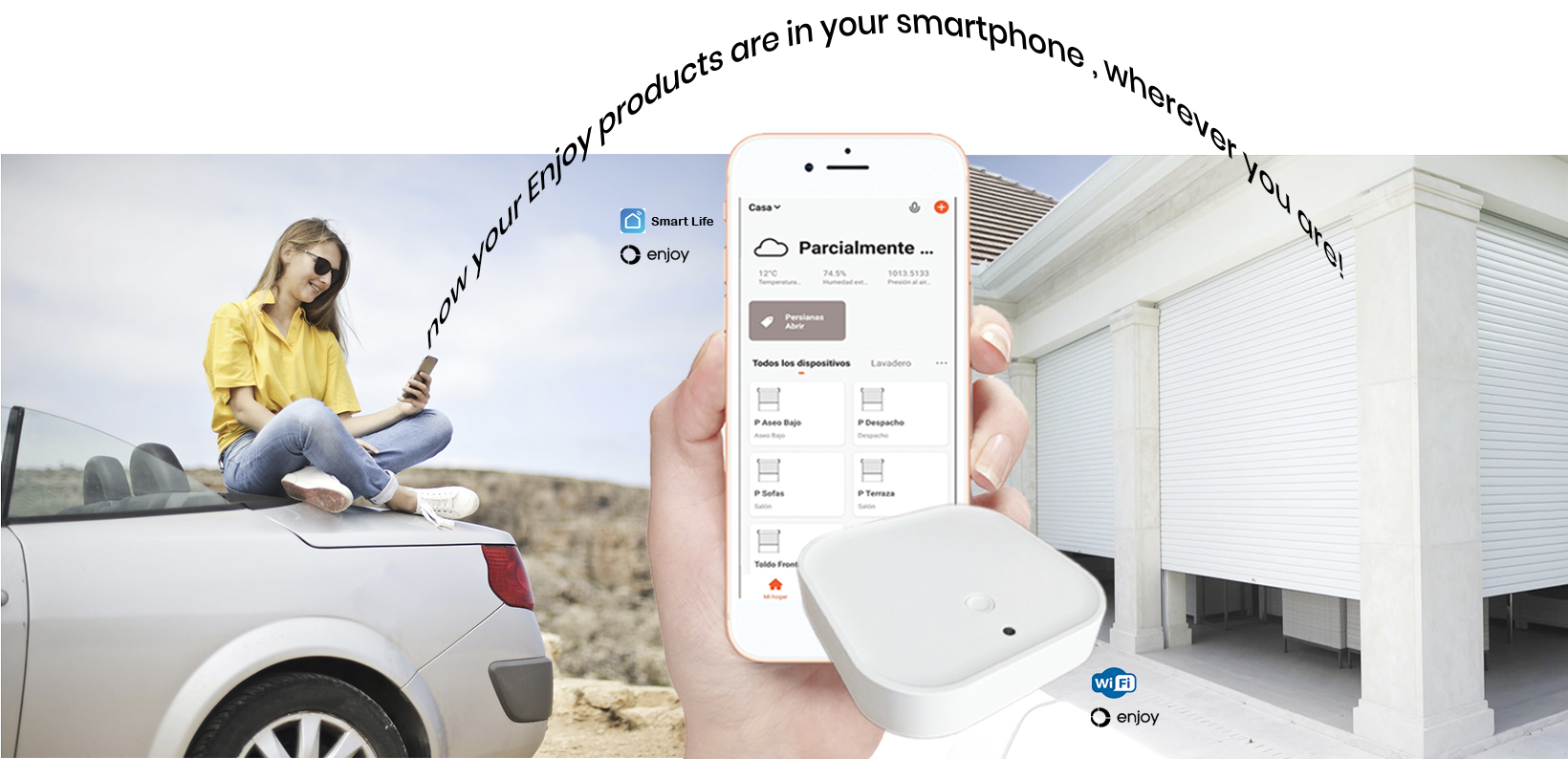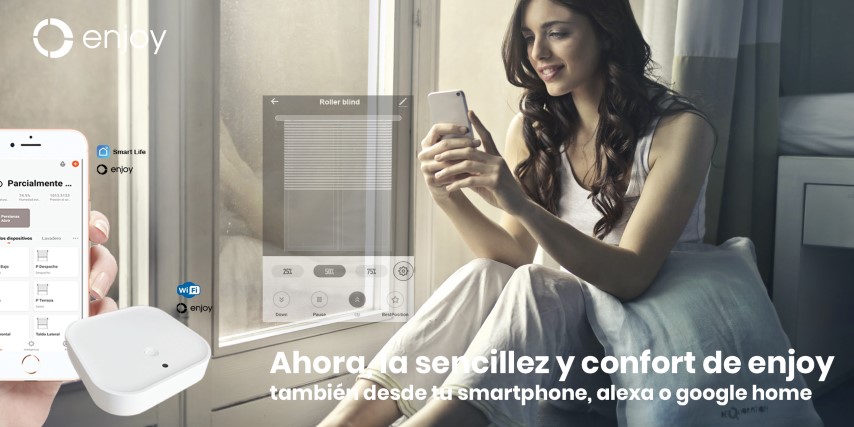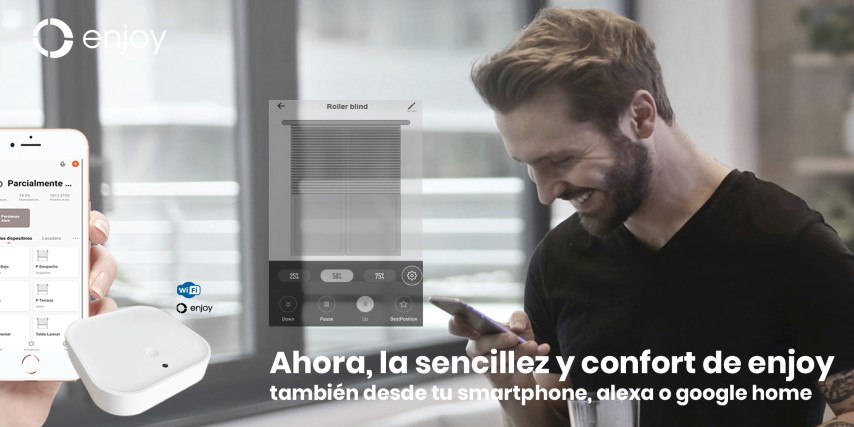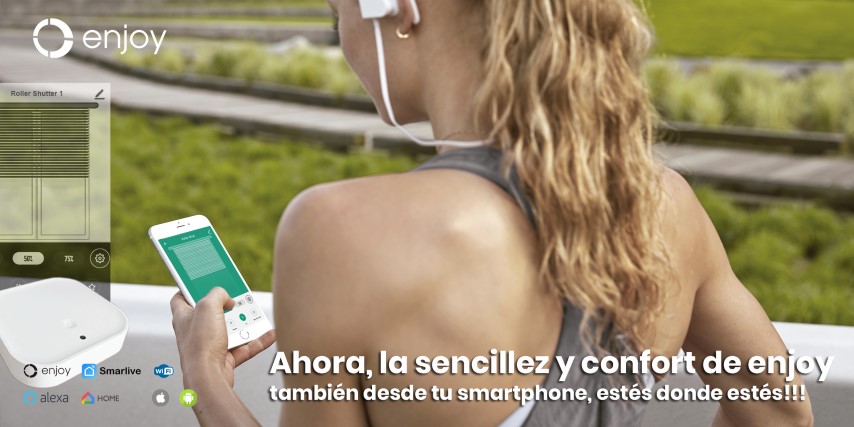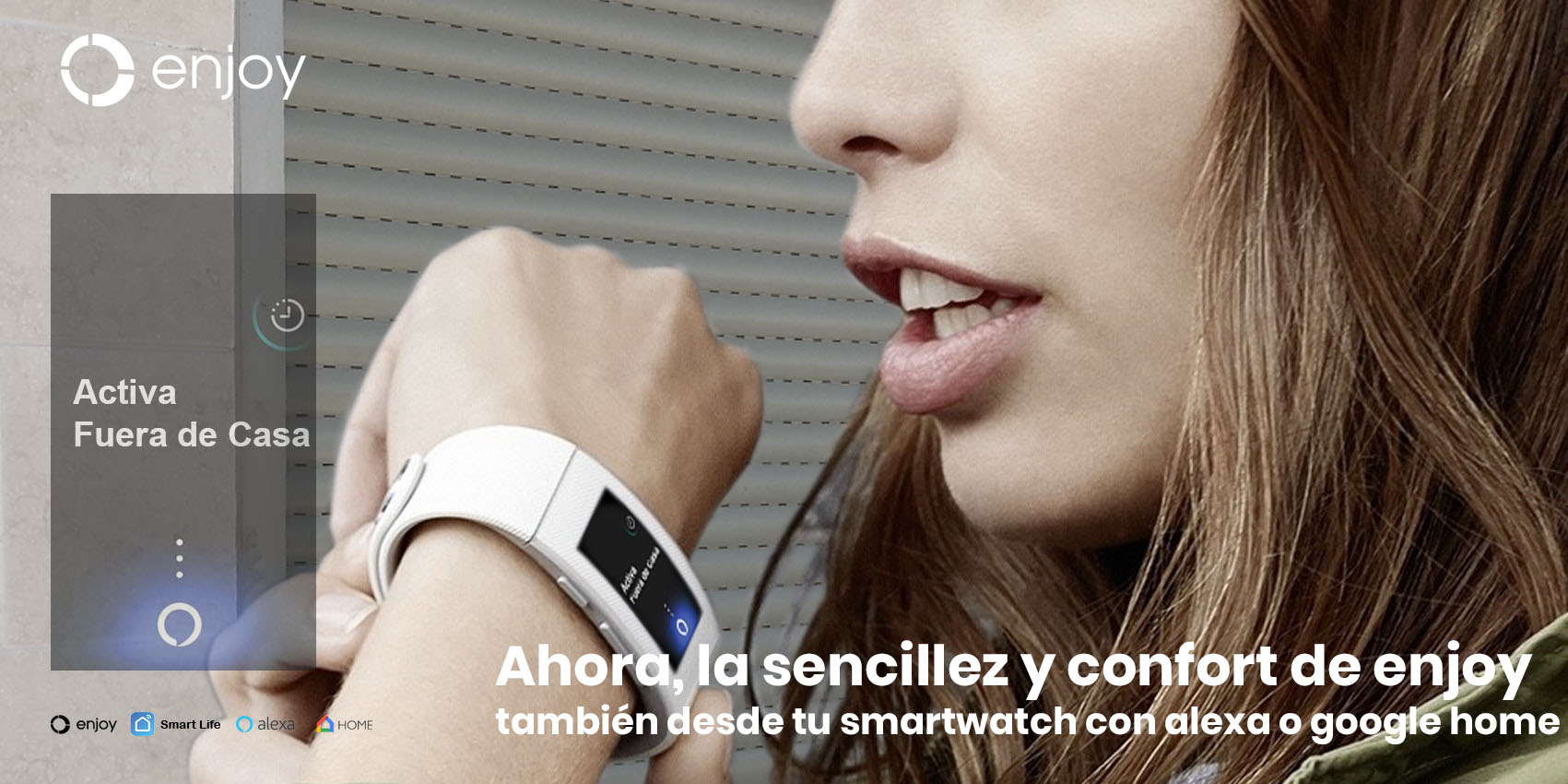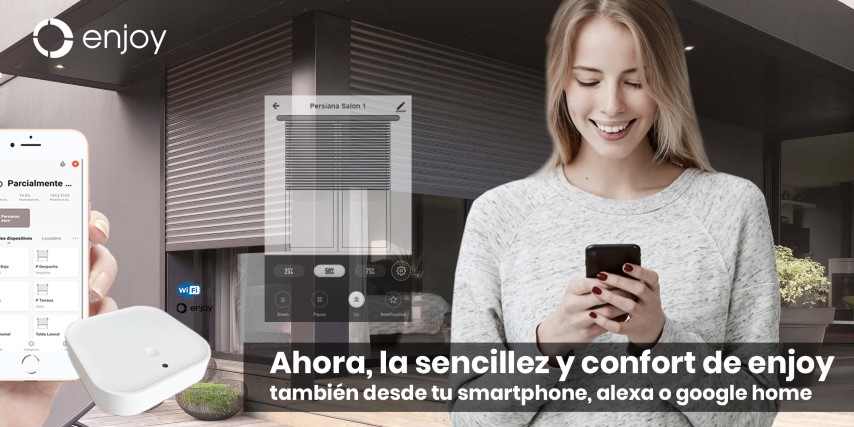 Do you have motorized systems with ENJOY R4 products at your home? now, it is really easy and simple to command them from your smartphone (Android or iOS). Besides, our hub GWE with the app Smart Life are compatible with Alexa and Google Home, so you can also open or closed your roller shutters, awnings, blinds, ... simply with voice commands