JE60FCI-FMI

motor with mechanical setting by screws, for heavy shutters
What does the JE60FCI - FMI motor offer to roller doors?
End limits (upper and lower points) are made in the traditional way by the standard two screws located on the motor head
Motor with 4-wire cable: Neutral (blue) and two wires corresponding to the direction of rotation (black and brown), in addition to the ground. To connect to a fixed switch or other external systems such as receivers, centralization modules or home automation devices
The FCI model has a 16x16mm square metal spigot inserted into the motor head, for use with brackets
The FMI model has a 100x100mm square metal plate fixed on the motor head for direct fixing in aluminum drawers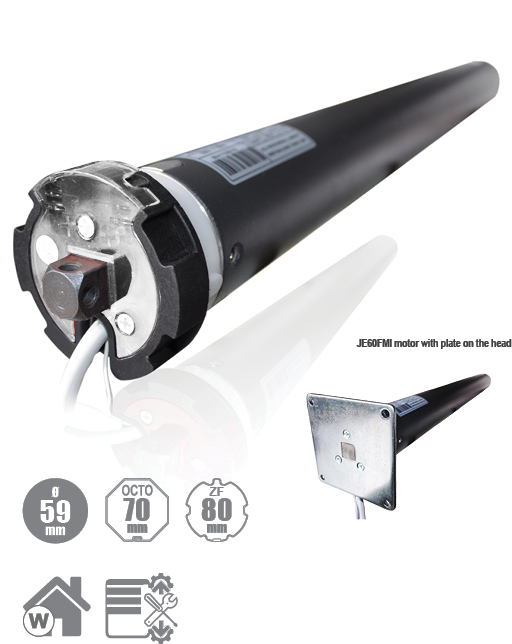 Main features:
Traditional limits point setting: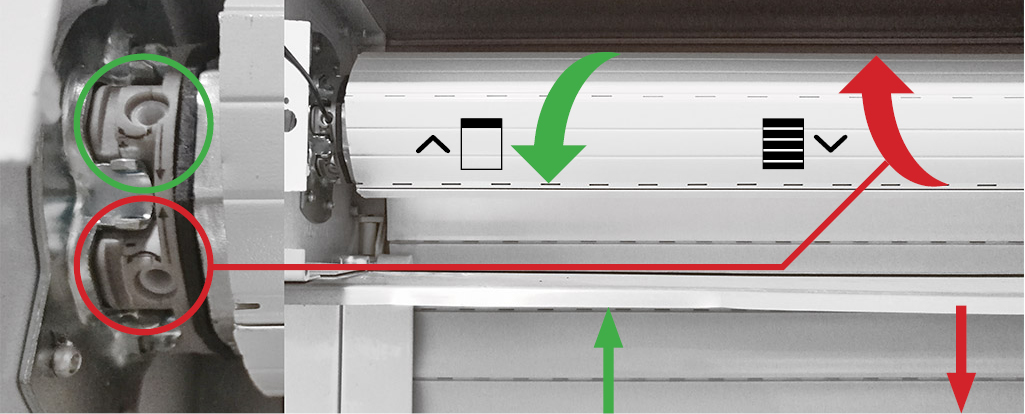 Motor JE60FCI has the traditional limits setting. On the motor head there are 2 screws that are corresponding with the motor movement, represented by an arrow. It is very important to understand that said arrow does not indicate if the roller shutter is going uo or down, if you see the arrow or down, but rather indicates the rotation of the motor and therefore the movement that the shutter will perform.
in the example:
the upper screw represented by the arrow  ⬇ (green color) corresponds to the upper limit (because turning in that sense the blind is rolled up). For setting, we will turn the upper screw in the + direction if roller shutter has to rise more than it stops automatically or in the opposite way if it has to stop at a lower point
the lower screw represented by the arrow ⬆ (red color) corresponds to the lower limit (because turning in that sense the blind is unrolling). For setting, we will turn the lower screw in the + direction if has to downwards more  than its stops automatically or in the opposite way if it has to stop at a higher point
⚠ New:
product available during the second half 2020
Option safety stop "safety edge":
Receiver RECMAD03 is compatible with the safety stop system for roller blinds better known as "safety edge" This system is made up of 3 elements:
Transmitter unit. It receives the order by the rubber detector of the 2-wire terminal, and sends the stop order to the RECMAD03 receiver via radio under the freq. 433.92MHz
Detector rubber for terminal
Magnetic connector to deactivate the sensor when it reaches the lower point 
As soon as the rubber is pressed by an object, the transmitter unit sends the order to stop the RECMAD03 receiver and it automatically stops the motor (or reverses the maneuver to release said object), avoiding further damage to both the roller shutter and the object that caused the alert: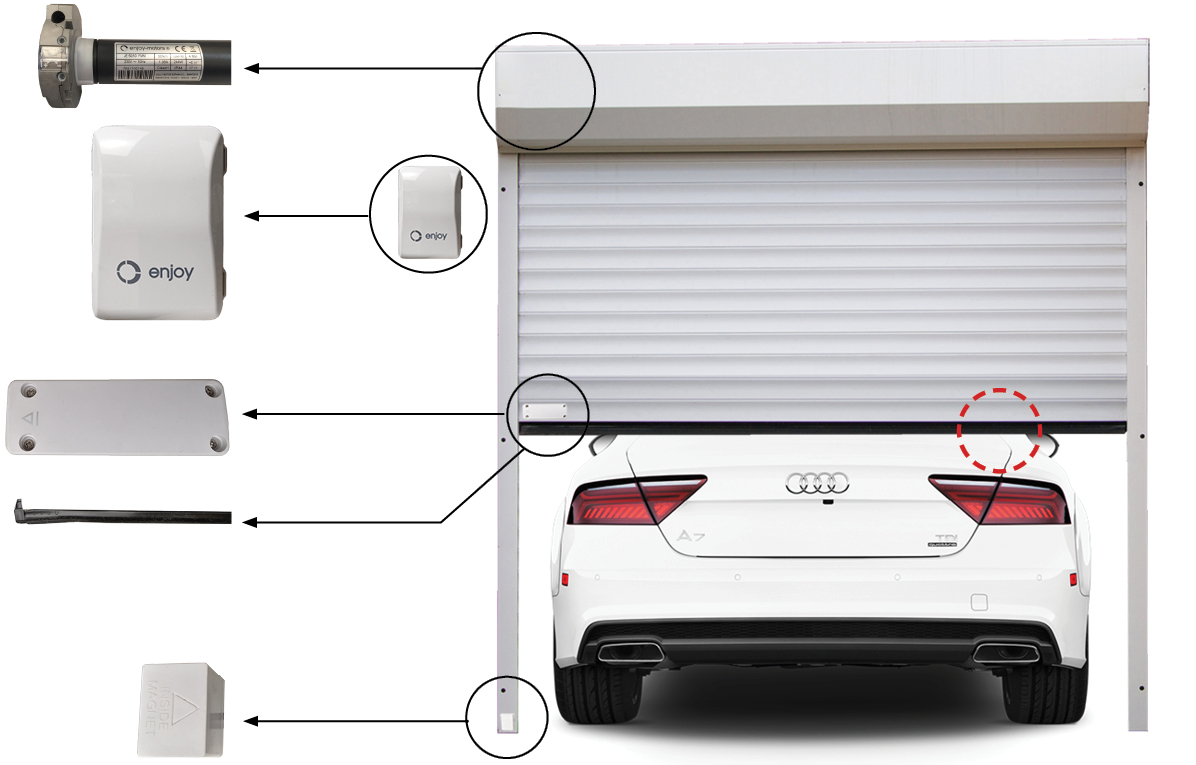 Option safety stop "photocells":
Receiver RECMAD03 is compatible with the safety stop system for roller shutters through a pair of photocells or a photocell and mirror:
As soon as the light beam is cut by an object, the RECMAD03 receiver automatically stops the motor (or reverses the maneuver to free the object), avoiding further damage to both the roller shutter and the object that caused the alert: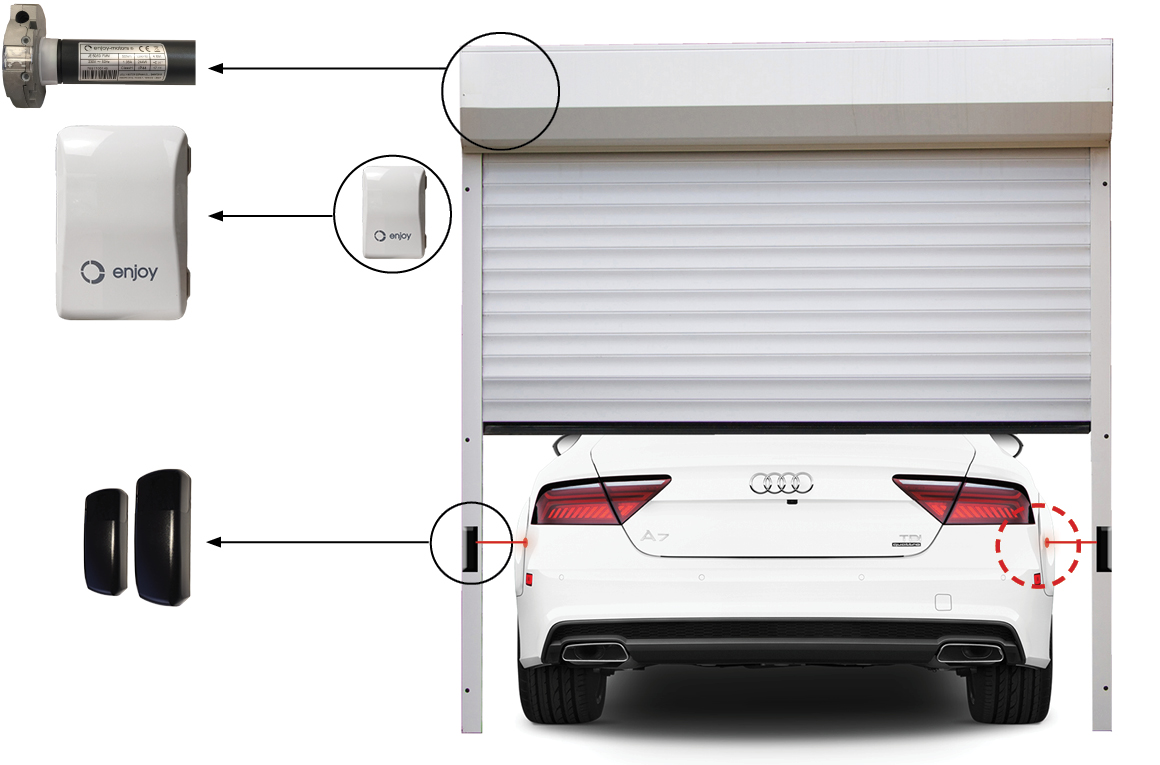 Wiring Option:

Technical data:
| | | | | | |
| --- | --- | --- | --- | --- | --- |
|   |   |   | JE60/80 | JE60/100 | JE60/120 |
|   NM |   |   | 80 | 100 | 120 |
|   RPM |   |   | 12 | 12 | 9 |
|   TURNS |   |   | 27 | 27 | 27 |
|   V~HZ |   |   | 230~50 | 230~50 | 230~50 |
|   A |   |   | 1,40 | 1,79 | 1,79 |
|   W |   |   | 315 | 410 | 410 |
|   MIN |   |   | 4 | 4 | 4 |
Main shaft adapters:

ST2587 - Zurfluh Feller ZF80:
Main motor brackets:
Standard brackets for roller shutters box in aluminium:
JE60R4FMI has a plate in 100x100 fixed in the own motor head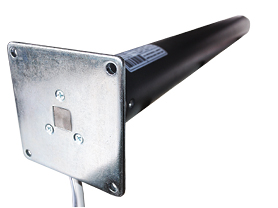 Standard motor bracket for pre-fabricated roller shutter housing :
Compatible products:
| | | | | |
| --- | --- | --- | --- | --- |
| | | | | |
| RECMAD03 | ASSM062-2 | ASSM062 | AS0718 | AS0717 |