JE40FCM

motor with mechanical setting by screws
What does the JE40FCM motor offer to roller shutters?
End limits (upper and lower points) are made in the traditional way by the standard two screws located on the motor head
Motor with 4-wire cable: Neutral (blue) and two wires corresponding to the direction of rotation (black and brown), in addition to the ground. To connect to a fixed switch or other external systems such as receivers, centralization modules or home automation devices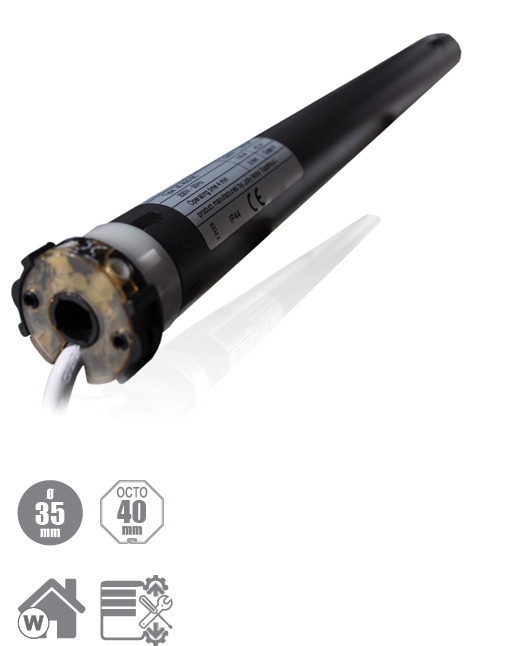 Main features:
Traditional limits point setting: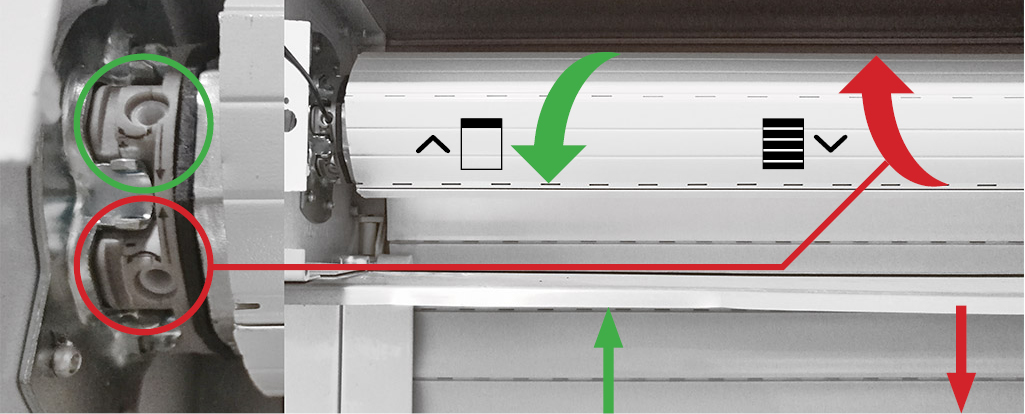 Motor JE40FCM has the traditional limits setting. On the motor head there are 2 screws that are corresponding with the motor movement, represented by an arrow. It is very important to understand that said arrow does not indicate if the roller shutter is going uo or down, if you see the arrow or down, but rather indicates the rotation of the motor and therefore the movement that the shutter will perform.
in the example:
the upper screw represented by the arrow  ⬇ (green color) corresponds to the upper limit (because turning in that sense the blind is rolled up). For setting, we will turn the upper screw in the + direction if roller shutter has to rise more than it stops automatically or in the opposite way if it has to stop at a lower point
the lower screw represented by the arrow ⬆ (red color) corresponds to the lower limit (because turning in that sense the blind is unrolling). For setting, we will turn the lower screw in the + direction if has to downwards more  than its stops automatically or in the opposite way if it has to stop at a higher point
Wiring Option:

Technical data:
| | | | | | |
| --- | --- | --- | --- | --- | --- |
|   | JE40/10 |   |   |   |   |
|   NM | 10 |   |   |   |   |
|   RPM | 14 |   |   |   |   |
|   TURNS | ∞ |   |   |   |   |
|   V~HZ | 230~50 |   |   |   |   |
|   A | 0,49 |   |   |   |   |
|   W | 116 |   |   |   |   |
|   MIN | 4 |   |   |   |   |
Main shaft adapters:

ST0721MR - Zurfluh Feller ZF45:
Main motor brackets:
Standard brackets for roller shutters box in aluminium/pvc :
SP34322 Adaptation plate to be used with bracket SP0611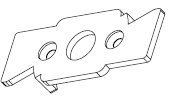 SP0611 Standard bracket for roller shutter box in alu/pvc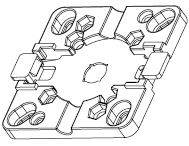 Standard motor bracket for pre-fabricated roller shutter housing :
Motor bracket for pre-fabricated roller shutter housing :
Height adjustable motor bracket for pre-fabricated roller shutter housing :
Compatible Products:
| | | | | |
| --- | --- | --- | --- | --- |
| | | | | |
| RECMAD01 | ASSM062-2 | ASSM062 | AS0718 | AS0668-AS08916 |