JE50FCH12V y HITEC R4

DC12V low-voltage motor, powered by HITEC battery with enjoy R4 radio system
What does the motor JE50FCH12V & HITEC R4 offers to roller shutters?
JE50/20FCH12V 20Nm DC12V low voltage motor , with electromechanical limit switch. End limits (upper and lower points) are made in the traditional way by the standard two screws located on the motor head
Push button HITEC R4 built in receiver enjoy R4, with 2200mAH batteries to powered DC12V low voltage JE50/20FCH12V, directly rechargeable by using a 5v micro-usb charger (it is possible to remove the battery for recharging somewhere else) or direct recharging by a solar pane
Optionally: DC-S2 solar panel
Roller shutter can be operated directly from the this push-button HITEC or using any of the Enjoy R4 remote controls
Allows as maximum 15 remote controls, which can be added from a previously recognized one, from the own motor or after a power on
You can command this motor locally or from anywhere else. What do you need? modem Wi-Fi in 2.4ghz at home; the Smart Life app installed on your smartphone or tablet (android or iOS); and the GWE hub. In addition, it is also compatible with Alexa and Google Home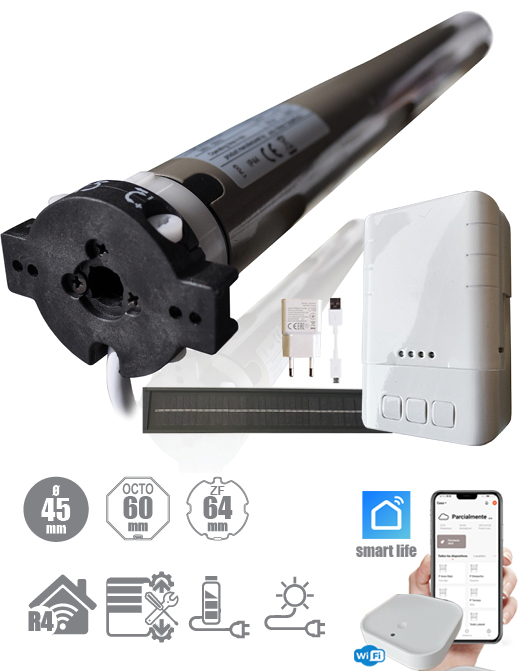 Características principales:
HITEC R4 system:
The HITEC system is made up of the HITECR4 1️⃣ main unit, which is a push-button by which the 3️⃣ JE50FCH12V low-voltage and mechanical motor can be operated. This main unit 1️⃣ has a 2200mAH battery rechargeable by the 5V HICHARGER 2️⃣ micro-usb charger. We also offer the possibility of connecting a solar panel DC-S2 4️⃣  directly to the unit, so that the recharge is through solar energy. As the KITECR4 unit in built in enjoy R4 receiver, the motor can also be operated using any of our enjoy R4 remote controls
Traditional limits point setting: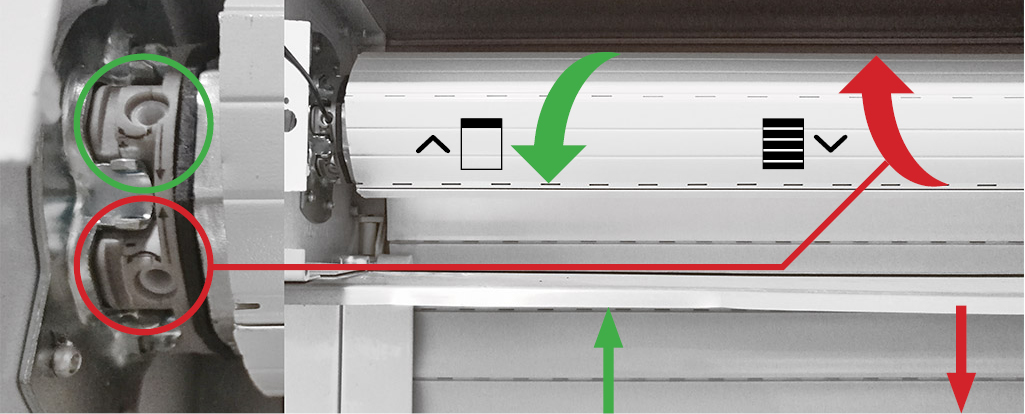 Motor JE50FCH12V has the traditional limits setting. On the motor head there are 2 screws that are corresponding with the motor movement, represented by an arrow. It is very important to understand that said arrow does not indicate if the roller shutter is going uo or down, if you see the arrow or down, but rather indicates the rotation of the motor and therefore the movement that the shutter will perform.
in the example:
the upper screw represented by the arrow  ⬇ (green color) corresponds to the upper limit (because turning in that sense the blind is rolled up). For setting, we will turn the upper screw in the + direction if roller shutter has to rise more than it stops automatically or in the opposite way if it has to stop at a lower point
the lower screw represented by the arrow ⬆ (red color) corresponds to the lower limit (because turning in that sense the blind is unrolling). For setting, we will turn the lower screw in the + direction if has to downwards more  than its stops automatically or in the opposite way if it has to stop at a higher point
Obstacle detection:

Motor JE50FCH12V, if used with obstacle detection pulley AS1310 or AS1315 assembling it on the motor gear box drive, is able to detect when the roller shutts finds an obstacle:

When an object doens't permit to the roller shutter goes down, thanks to the pulley AS1310 or AS1315 the motor rotation is not transmitted to the axis of the roller shutter, so that the shutter will remain stopped while the mechanical motor rotates freely inside the axle. After 4 minutes from the command was sent, HITEC system will stopped automatically the motor operation
Wiring Option:

Technical data:
| | | | | | |
| --- | --- | --- | --- | --- | --- |
|   |   | JE50/20 |   |   |   |
|   NM |   | 20 |   |   |   |
|   RPM |   | 13 |   |   |   |
|   TURNS |   | 24 |   |   |   |
| V~HZ |   | DC12V |   |   |   |
|   A |   | 5 |   |   |   |
|   W |   | 60 |   |   |   |
|   MIN |   | ∞ or 4 with HITEC |   |   |   |
Main shaft adapters:

ST0924M - Octagonal 60 (standard):
ST0936 - Zurfluh Feller ZF54:
ST0913 - Zurfluh Feller ZF64:
ST0903 - Zurfluh Feller ZF80:
Main motor brackets:
Standard brackets for roller shutters box in aluminium/pvc:
SP0825 Standard bracket for roller shutter box in alu/pvc (star motor head)

SP0824 bracket for roller shutter box in alu/pvc (star motor head)

K370CA bracket for ZF roller shutter box (star motor head)

Standard motor bracket for pre-fabricated roller shutter housing:
Motor bracket for pre-fabricated roller shutter housing:
Height adjustable motor bracket for pre-fabricated roller shutter housing:
with enjoy, command your home

wherever you are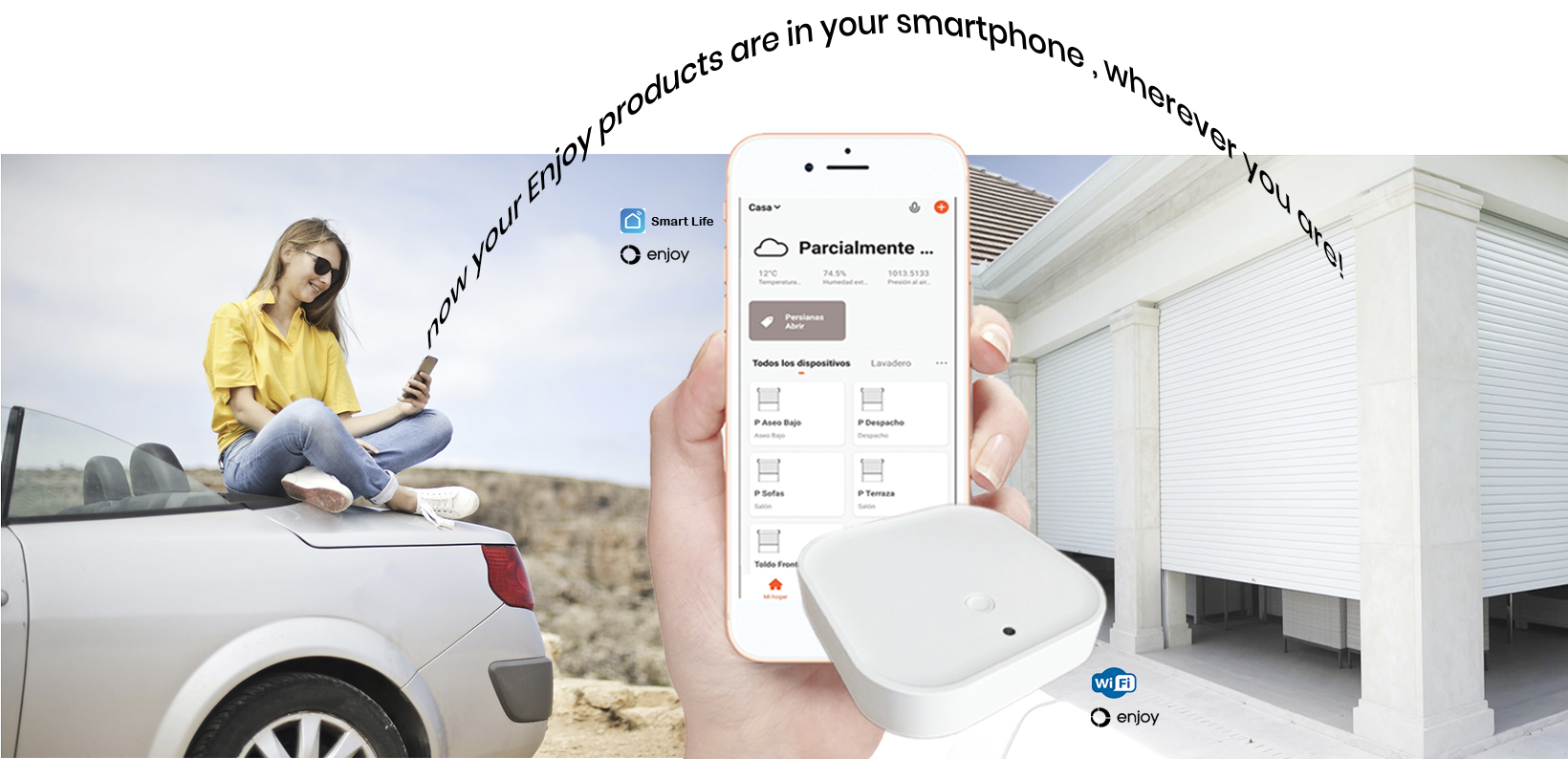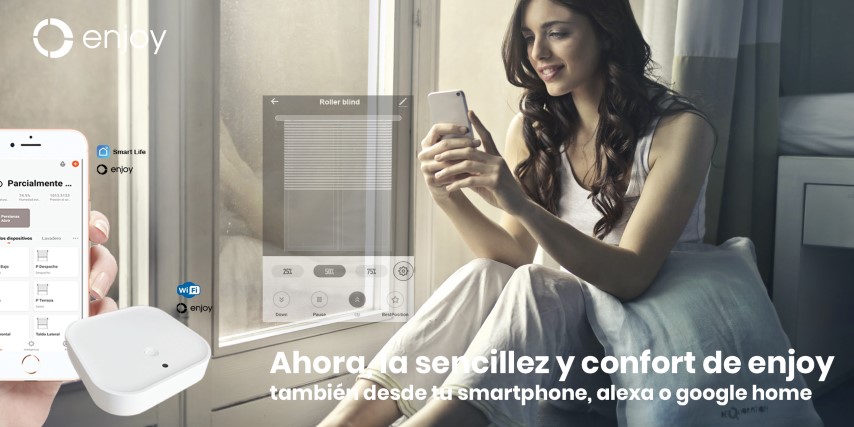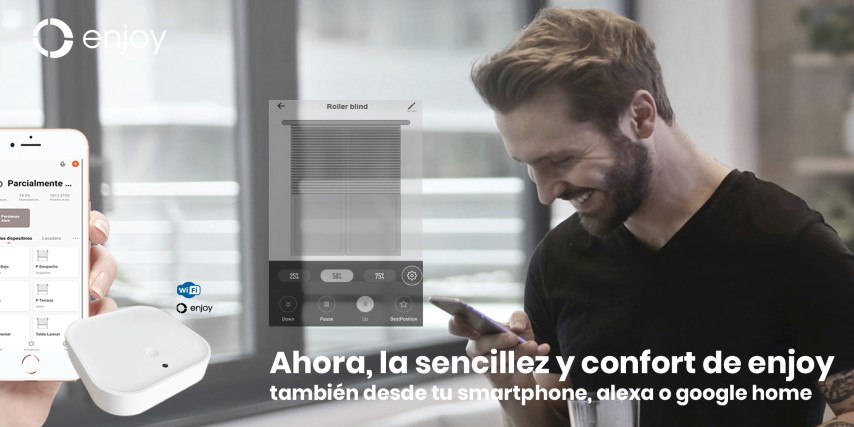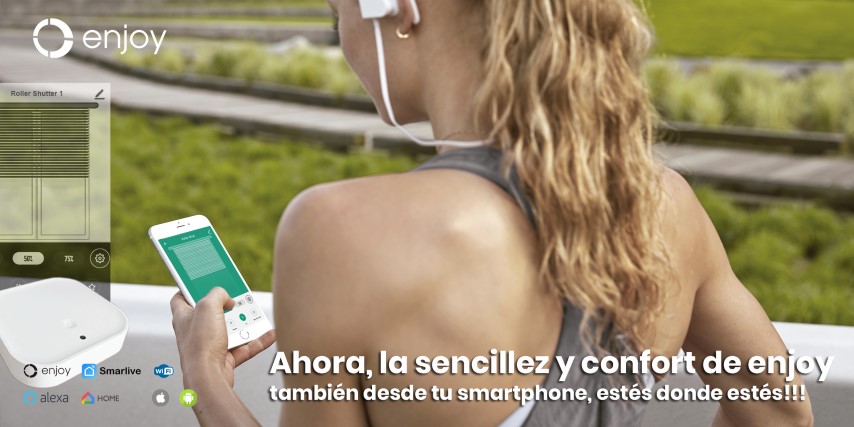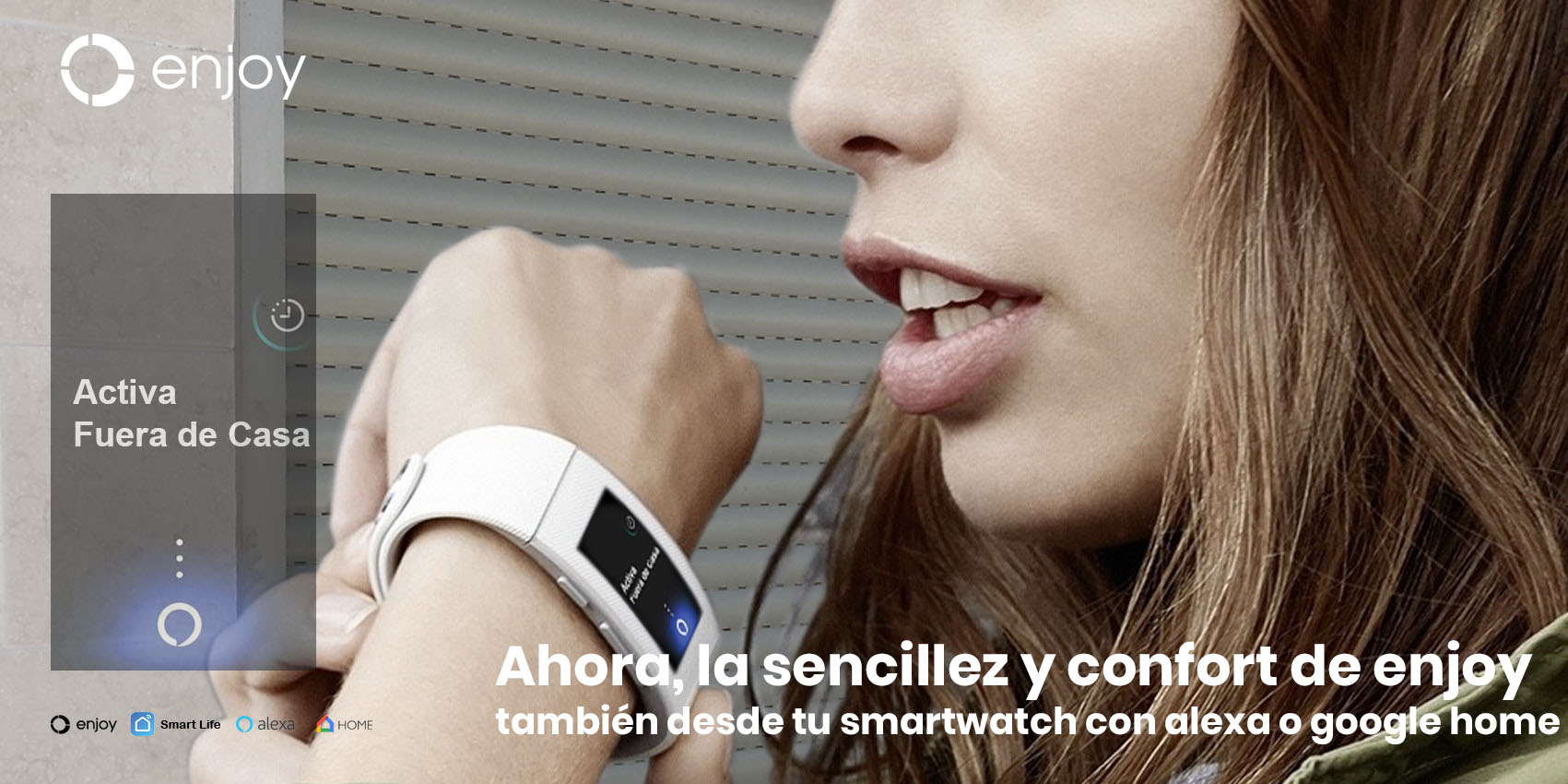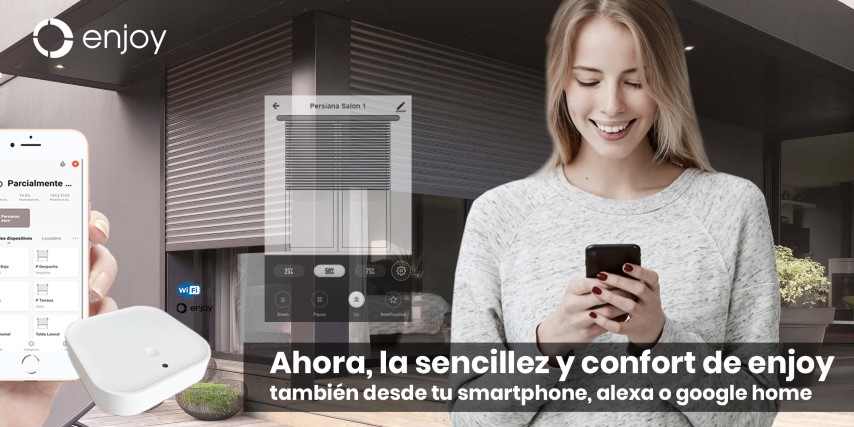 Do you have motorized systems with ENJOY R4 products at your home? now, it is really easy and simple to command them from your smartphone (Android or iOS). Besides, our hub GWE with the app Smart Life are compatible with Alexa and Google Home, so you can also open or closed your roller shutters, awnings, blinds, ... simply with voice commands