JE40ELMAUT

motor with electronic limits setting and parallel connection
What does the JE40ELM motor offer to roller shutters?
The regulation of the end points can be done:
Manual: from a conventional switch and button on the motor head
Manual: from the special programming switch CAREGEL
Automatic motor stop in up-way (slat blockets by displacement, anti-lift locks or ice)
Motor with 4-wire cable: Neutral (blue) and two wires corresponding to the direction of rotation (black and brown), in addition to the ground. To connect to a fixed switch or other external systems such as receivers, centralization modules or home automation devices
For this type of motor, parallel connection is allowed, it is, the connection of several motors directly to a single switch or other device (a connection of up to 5 motors is recommended)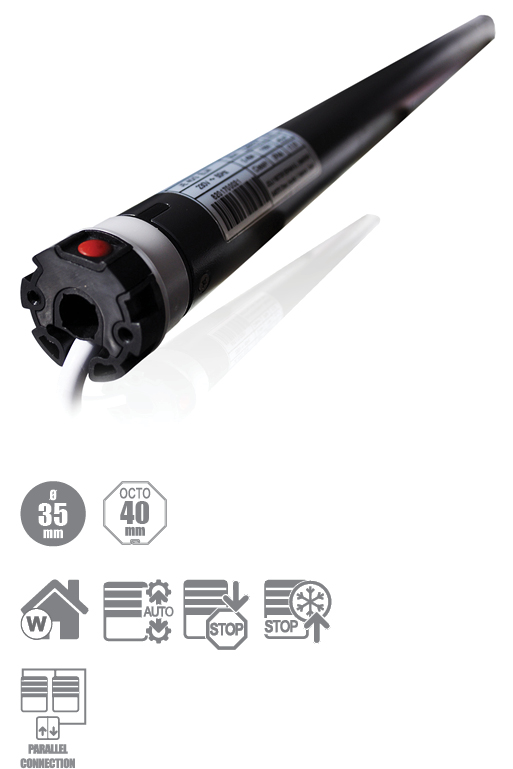 Características principales:
Parallel connection:

Motor JE40ELMAUT can be connected in parallel with other motors from this category (ELM). As the parallel connection up to 5 motors is allowed for this kind of motors, by connecting all of them into a single and standard switch they can operate as a group ... simple? very easy
You protect your house, we your roller shutters:

The installation of locks on the terminal or any other system to lock the shutter when it is closed is a measure that increases security against openings from the outside. The problem arises when we forget that the rolelr shutter is locked and we operate it remotely, since the motor will force the entire system until some component gives way and breaks.
Enjoy motors like JE40ELMAUT has an internal safety system that protects the shutter from this type of forgetfulness, by stopping the opening (upward movement) as soon as it feels that the roller shutter is locked
Wiring Option:

Technical data:
| | | | | | |
| --- | --- | --- | --- | --- | --- |
|   | JE40/10 |   |   |   |   |
|   NM | 10 |   |   |   |   |
|   RPM | 14 |   |   |   |   |
|   TURNS | ∞ |   |   |   |   |
|   V~HZ | 230~50 |   |   |   |   |
|   A | 0,49 |   |   |   |   |
|   W | 116 |   |   |   |   |
|   MIN | 4 |   |   |   |   |
Main shaft adapters:

ST0721MR - Zurfluh Feller ZF45:
Main motor brackets:
Standard brackets for roller shutters box in aluminium/pvc :
SP34322 Adaptation plate to be used with bracket SP0611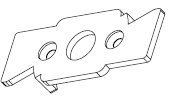 SP0611 Standard bracket for roller shutter box in alu/pvc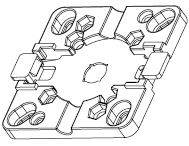 Standard motor bracket for pre-fabricated roller shutter housing :
Motor bracket for pre-fabricated roller shutter housing :
Height adjustable motor bracket for pre-fabricated roller shutter housing :