JE50FMM

motor with mechanical setting by screws and manual operating system
What does the JE50FMM motor offer to roller shutters?
End limits (upper and lower points) are made in the traditional way by the standard two screws located on the motor head
Motor with 4-wire cable: Neutral (blue) and two wires corresponding to the direction of rotation (black and brown), in addition to the ground. To connect to a fixed switch or other external systems such as receivers, centralization modules or home automation devices
If motor is assembled inside the shutter axle, with the mechanical accessory AS1310 or AS1315, a similar function than in the electronic motors is provided to the detection of obstacles in downwards movement. This accessory is a clutch, which in the face of an obstacle, the rotation of the motor does not move to the axis of the roller shutter, turning the motor freely inside. This prevents damage to the shutter's slats, although the motor will rotate freely until the switch is set to zero
Possibility to operate the motor, even in the absence of electricity, through a hand crank, thus providing the security that, if necessary, we can raise or lower the roller shutters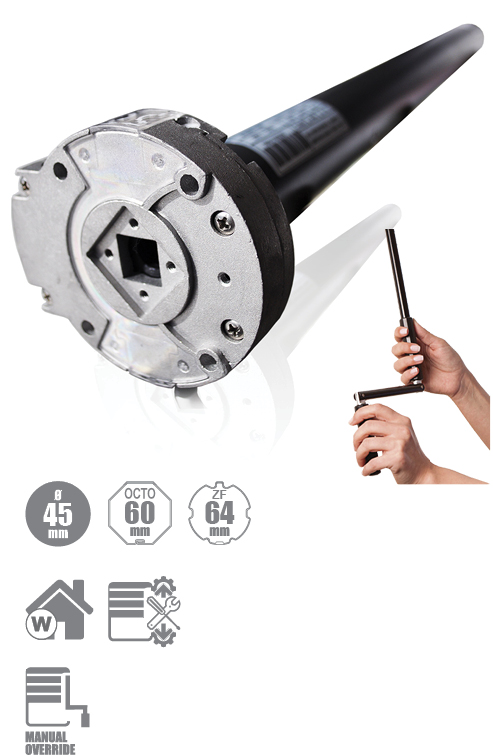 Main features:
FMM system, motor with manual operation: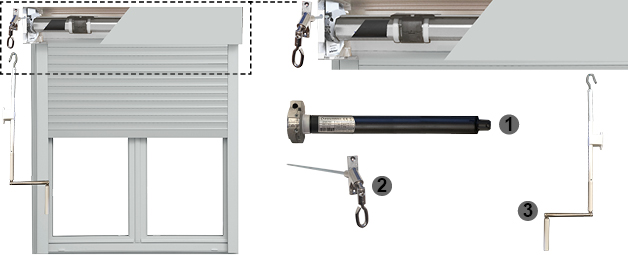 Motor JE50FMM has an internal cardan that allows the user to operate the motor through a crank. This operation gives the motor the security that, if necessary, either because it is a roller shutter from a terrace door, ..., we can close or open it even in the absence of electricity. At enjoy we have a series of accessories for the JE50FMM 1️⃣ motor such as the cardan or union fitting AS2029 2️⃣ and the crank AS1782 3️⃣
Traditional limits point setting: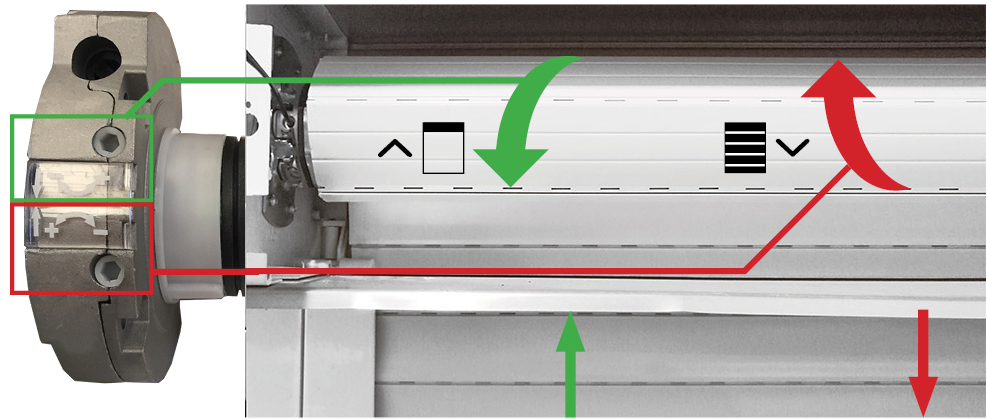 Motor JE50FMM has the traditional limits setting. On the motor head there are 2 screws that are corresponding with the motor movement, represented by an arrow. It is very important to understand that said arrow does not indicate if the roller shutter is going uo or down, if you see the arrow or down, but rather indicates the rotation of the motor and therefore the movement that the shutter will perform.
in the example:
the upper screw represented by the arrow  ⬇ (green color) corresponds to the upper limit (because turning in that sense the blind is rolled up). For setting, we will turn the upper screw in the + direction if roller shutter has to rise more than it stops automatically or in the opposite way if it has to stop at a lower point
the lower screw represented by the arrow ⬆ (red color) corresponds to the lower limit (because turning in that sense the blind is unrolling). For setting, we will turn the lower screw in the + direction if has to downwards more  than its stops automatically or in the opposite way if it has to stop at a higher point
Obstacle detection:

Motor JE50FMM, if used with obstacle detection pulley AS1310 or AS1315 assembling it on the motor gear box drive, is able to detect when the roller shutts finds an obstacle:

When an object doens't permit to the roller shutter goes down, thanks to the pulley AS1310 or AS1315 the motor rotation is not transmitted to the axis of the roller shutter, so that the shutter will remain stopped while the mechanical motor rotates freely inside the axle, until it stops due to the jump of its internal thermal protection
Wiring Option:

Technical data:
| | | | | | |
| --- | --- | --- | --- | --- | --- |
|   | JE50/20 | JE50/30 | JE50/40 17rpm | JE50/40 | JE50/50 |
|   NM | 20 | 30 | 40 | 40 | 50 |
|   RPM | 17 | 17 | 17 | 13 | 13 |
|   TURNS | 27 | 27 | 27 | 27 | 27 |
|   V~HZ | 230~50 | 230~50 | 230~50 | 230~50 | 230~50 |
|   A |   | 10,95 | 1,06 | 0,95 | 1,06 |
|   W | 203 | 226 | 244 | 226 | 244 |
|   MIN | 4 | 4 | 4 | 4 | 4 |
Main shaft adapters:

ST0924M - Octagonal 60 (standard):
ST0936 - Zurfluh Feller ZF54:
ST0913 - Zurfluh Feller ZF64:
ST0903 - Zurfluh Feller ZF80:
Main motor brackets:
Standard brackets for roller shutters box in aluminium/pvc:
SP0825 Standard bracket for roller shutter box in alu/pvc (star motor head)

SP0824 bracket for roller shutter box in alu/pvc (star motor head)

K370CA bracket for ZF roller shutter box (star motor head)

Standard motor bracket for pre-fabricated roller shutter housing:
Motor bracket for pre-fabricated roller shutter housing:
Height adjustable motor bracket for pre-fabricated roller shutter housing:
Compatible Products:
| | | | | |
| --- | --- | --- | --- | --- |
| | | | | |
| RECMAD03 | ASSM062-2 | ASSM062 | AS0718 | AS1782 |