JE50R4SH

radio motor with electronic limit switch
What does the JE50R4SH radio motor offer to roller shutters?
All settings are managed from any of R4's remote controls
Automatic setting end limits, if the roller shutter is assembled with rigid spring and if end slats have stops
It also has a simple semi-automatic or manual end limits setting from the remote control
Detection of obstacles on the descent that can be activated or not depending on each installation
Ascent resistance detection (slat displacement, anti-lift locks or blocked by ice)
3 intermediate points created automatically
User comfort point easily programmable by the remote control
Allows as maximum 15 remote controls, which can be added from a previously recognized one, from the own motor or after a power on
As standard it is possible to connect a wired single pushbutton (1 key) and optionally a double pushbutton (2 keys)
You can command this motor locally or from anywhere else. What do you need? modem Wi-Fi in 2.4ghz at home; the Smart Life app installed on your smartphone or tablet (android or iOS); and the GWE hub. In addition, it is also compatible with Alexa and Google Home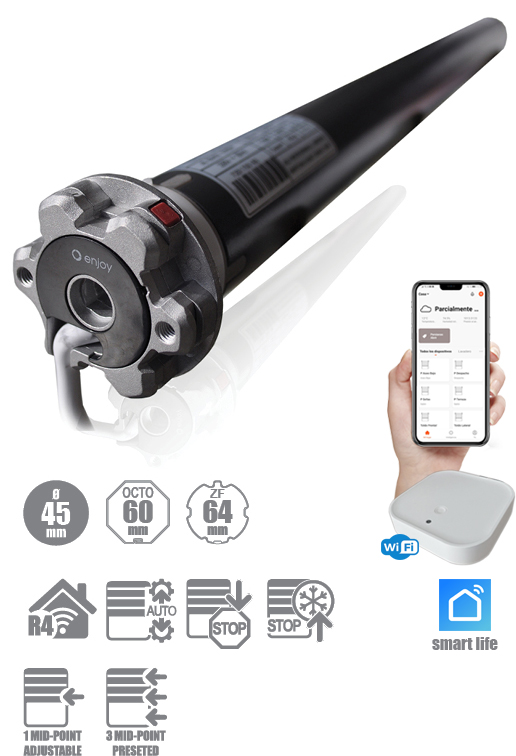 Main features:
Plug Play (automatical limit points setting):

Motor JE50R4SH, once the first emitter is learned, it can fully operate in plug & play mode. If the roller shutters has stoppers on its final slat (seen or hidden) and rigid springs (to fix the slats on the axle), the upper and lower stopping points can be performed automatically. It is even possible to assemble the roller shutter, place it on the window while renovations work and once it is finished, at the third time that roller shutter reaches the maximum opening and closing positions 3 times, it will record these positions as the stopping points
Motor with multiple intermediate positions:

Motor JE50R4SH, it has 3 intermediate positions that are created in automatic mode (positions available in the EMSTEEL1M, TITANIUM1, TITANIUM5, TITANIUM10 transmitters), in addition to a fourth preferred user point easily created from the remote control and the standard upper and lower end points
Obstacle detection:

Motor JE50R4SH has the obstacle detection function. To activate this function, pulley AS1960 or AS1999 must be assembled on the gearbox motor drive:

Once the obstacle detection function is activated, when an obstacle does not allow the roller shutter to go down correctly, motor will stop and go up some centimeters centimeters, to release the object and prevent further damage to both the shutter and the object
You protect your house, we your roller shutters:

The installation of locks on the terminal or any other system to lock the shutter when it is closed is a measure that increases security against openings from the outside. The problem arises when we forget that the rolelr shutter is locked and we operate it remotely, since the motor will force the entire system until some component gives way and breaks.
Enjoy radio motors like JE50R4SH has an internal safety system that protects the shutter from this type of forgetfulness, by stopping the opening (upward movement) as soon as it feels that the roller shutter is locked
Against interference (wired push button available):

When motorizing certain elements such as a terrace door, we want to be sure that il will be closed or opened even if the remote control has broken, has no battery, or there is signal interference due to being near a police station, a fire station, ... For that reason, enjoy offers in its radio motors like JE50R4SH, 2 extra-wires to connect a push-button (single key) which provides to us open or close the roller shutter by pressing this button
Wiring options:
JE50R4SH - Standard motor with 5 wires (push-button with 1 single key)

JE50R4SH-6H - Optional motor with 6 wires (double push-button)
Technical data:
| | | | | | |
| --- | --- | --- | --- | --- | --- |
|   | JE50/10 | JE50/20 | JE50/30 | JE50/40 | JE50/50 |
|   NM | 10 | 20 | 30 | 40 | 50 |
|   RPM | 17 | 17 | 17 | 17 | 13 |
|   TURNS | ∞ | ∞ | ∞ | ∞ | ∞ |
|   V~HZ | 230~50 | 230~50 | 230~50 | 230~50 | 230~50 |
|   A | 0,68 | 0,84 | 0,95 | 1,06 | 1,06 |
|   W | 155 | 203 | 226 | 244 | 244 |
|   MIN | 4 | 4 | 4 | 4 | 4 |
Main shaft adapters:

ST0924M - Octagonal 60 (standard):
ST0936 - Zurfluh Feller ZF54:
ST0913 - Zurfluh Feller ZF64:
ST0903 - Zurfluh Feller ZF80:
Main motor brackets:
Standard brackets for roller shutters box in aluminium/pvc:
SP0825 Standard bracket for roller shutter box in alu/pvc (star motor head)

SP0824 bracket for roller shutter box in alu/pvc (star motor head)

K370CA bracket for ZF roller shutter box (star motor head)

Standard motor bracket for pre-fabricated roller shutter housing:
Motor bracket for pre-fabricated roller shutter housing:
Height adjustable motor bracket for pre-fabricated roller shutter housing:
with enjoy, command your home

wherever you are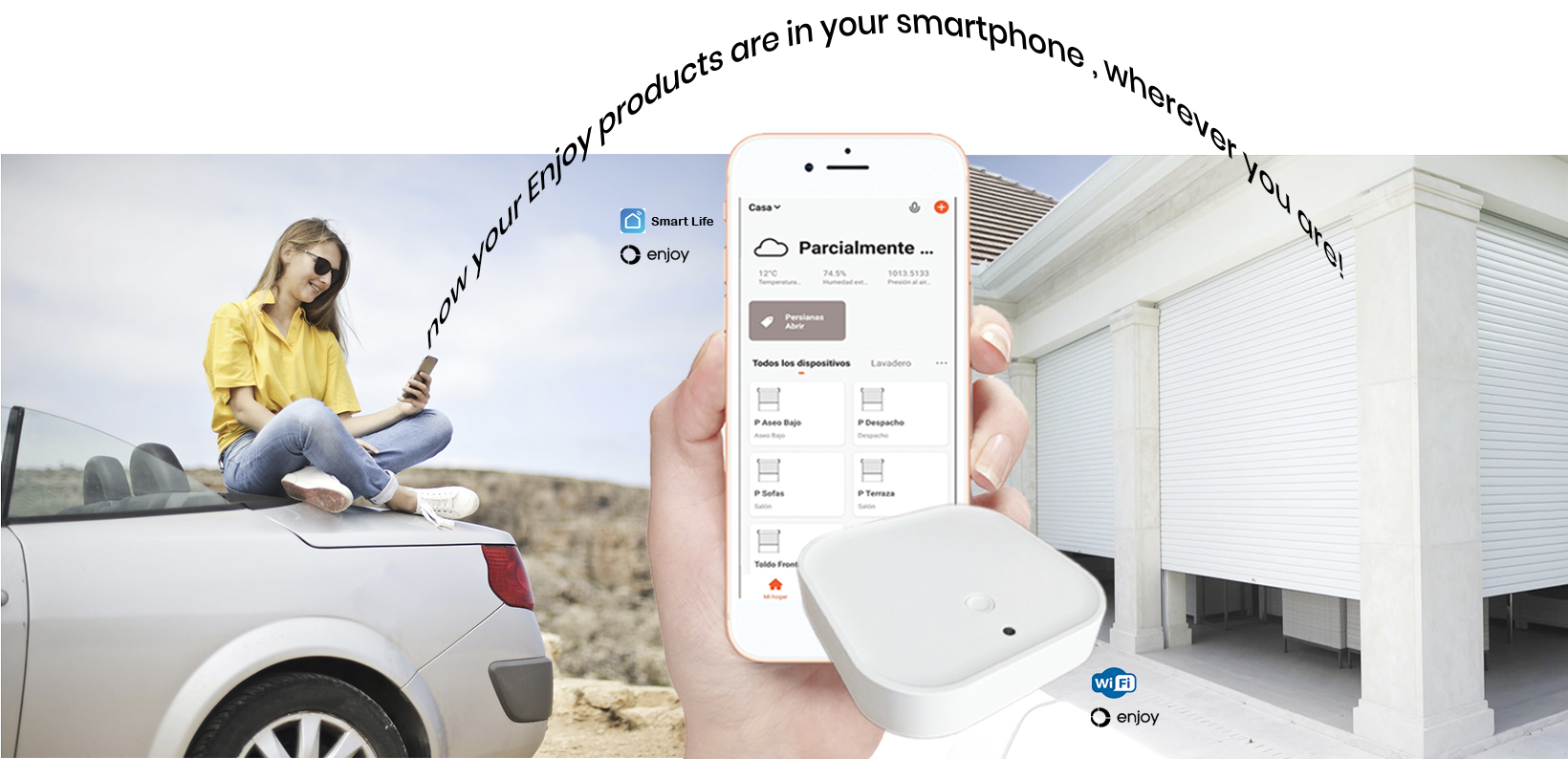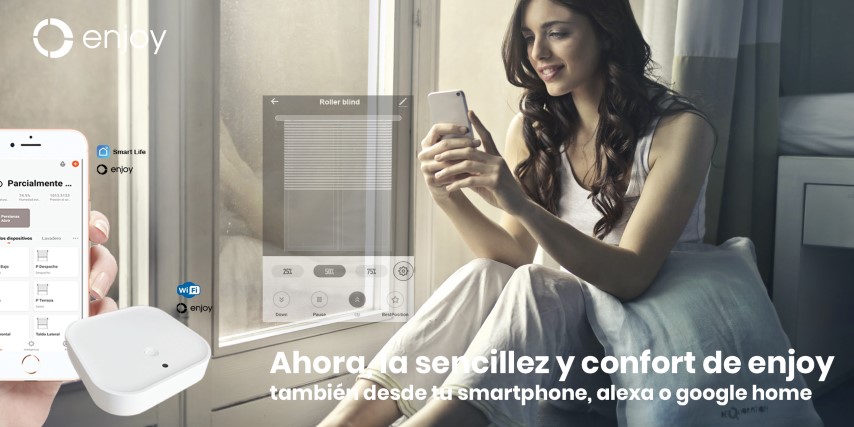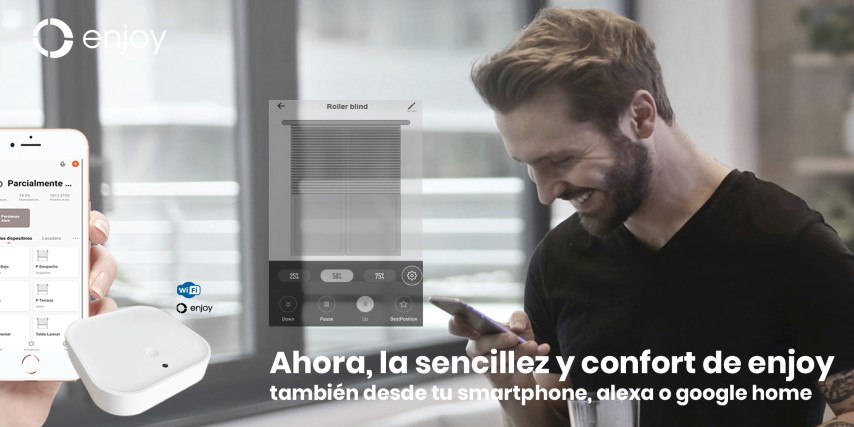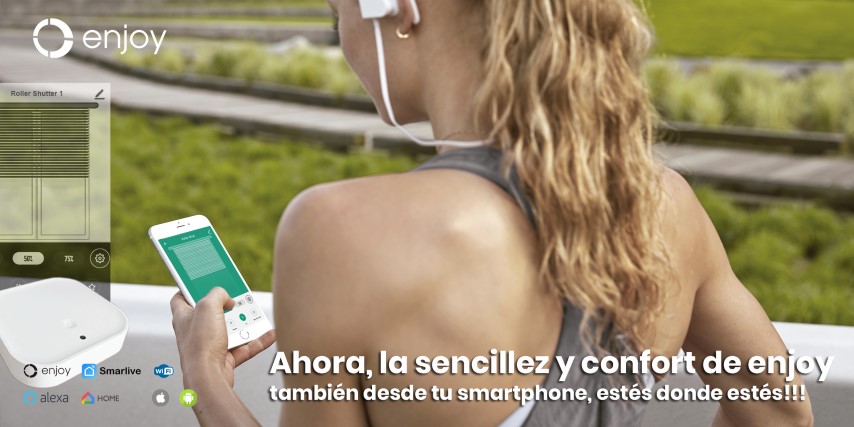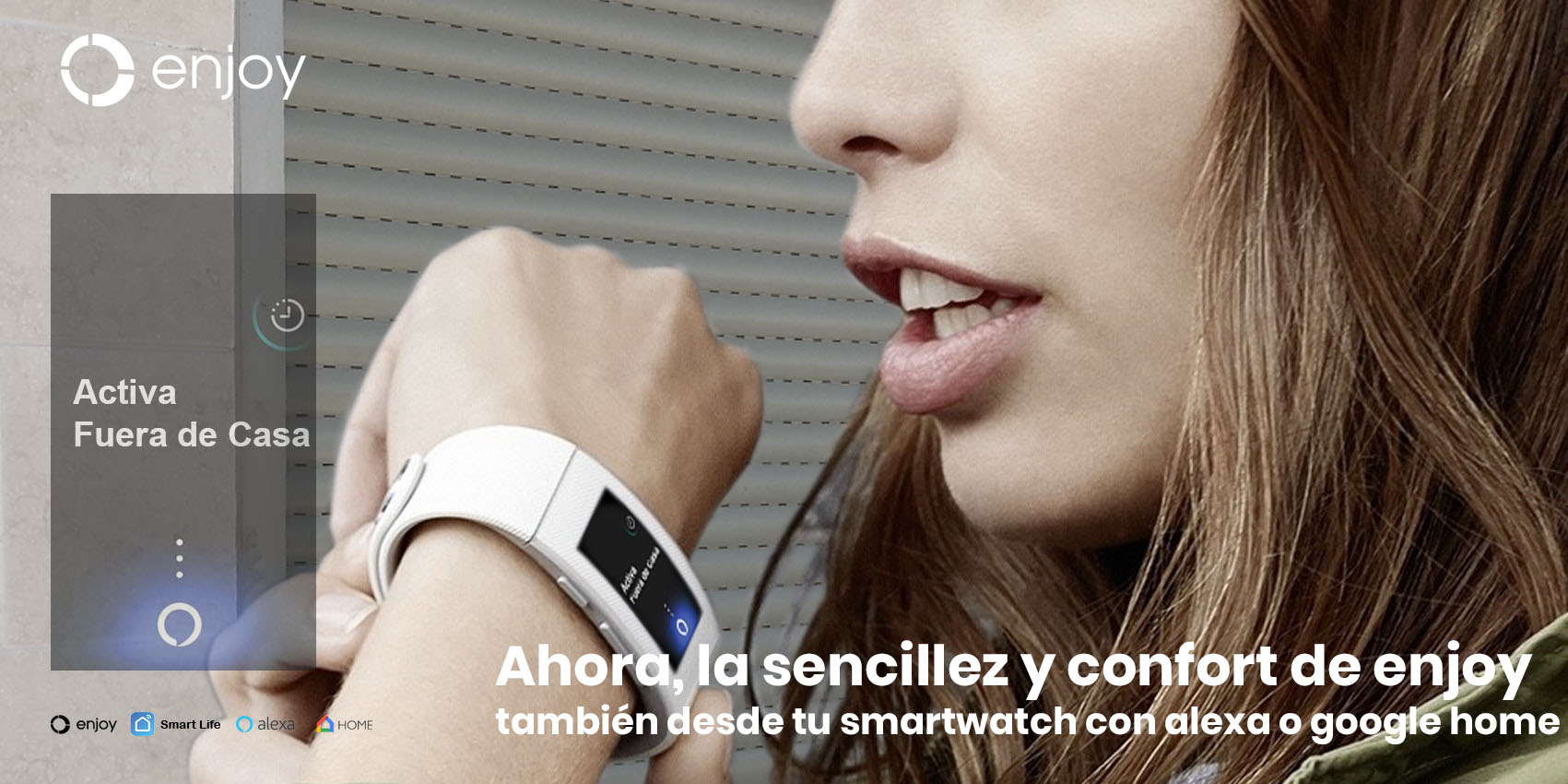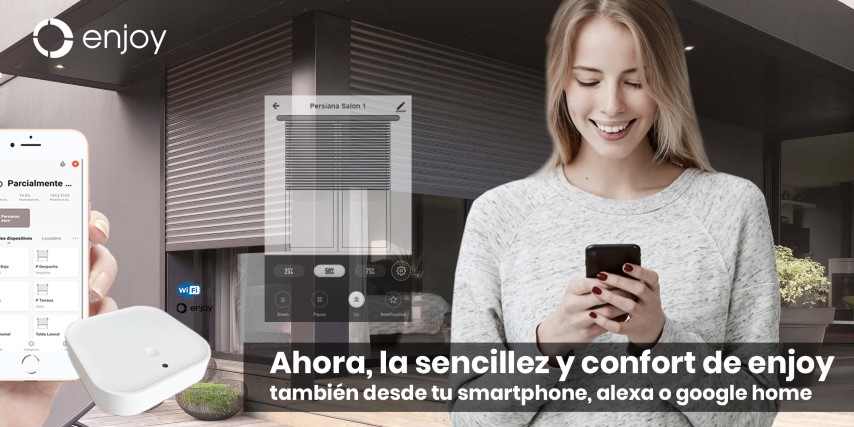 Do you have motorized systems with ENJOY R4 products at your home? now, it is really easy and simple to command them from your smartphone (Android or iOS). Besides, our hub GWE with the app Smart Life are compatible with Alexa and Google Home, so you can also open or closed your roller shutters, awnings, blinds, ... simply with voice commands