JE50R4RH

radio motor with electronic limit switch
What does the JE50R4RH radio motor offer to an exterior screen?
Motor with round head, diameter in 53 mm and grooves that adapt perfectly to the "Screen Rits" system of Gaviota-Simbac
All settings are managed from any of R4's remote controls
Setting the lower limit firstly, the screen will be closed by pressure between the loading bar with the drawer, ensuring a perfect closing
4 preset points (25%, 50%, 75% or 100% intensity) to adjust the closure force from the remote control
Compatible with the Sun and Wind SW4 sensor, it is possible to deactivate the solar sensor from a dedicated button from the remote control EMSTEEL1S
3 intermediate points created automatically
User comfort point easily programmable by the remote control
Allows as maximum 15 remote controls, which can be added from a previously recognized one, from the own motor or after a power on
You can command this motor locally or from anywhere else. What do you need? modem Wi-Fi in 2.4ghz at home; the Smart Life app installed on your smartphone or tablet (android or iOS); and the GWE hub. In addition, it is also compatible with Alexa and Google Home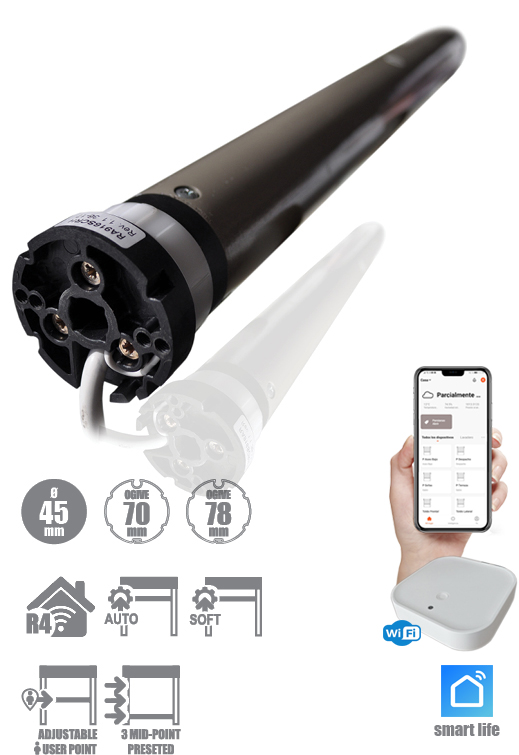 Main features:
Fits in Gaviota-Simbac's "Screen Rits" system: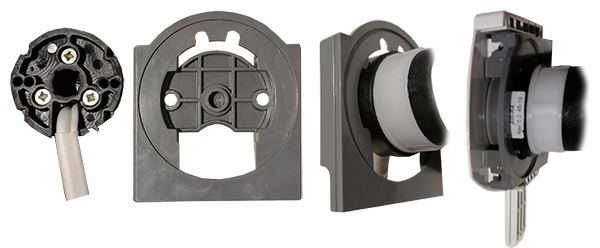 Motor JE50R4RH has a head diameter in 53mm and 4 openings that allow it to fit perfectly in the lateral of Simbac's Screen Rits system. In addition, the head is fixed to said lateral thanks to the threaded holes of this with a 48mm interaxe (also 36mm)
Motor with multiple intermediate positions:

Motor JE50R4ZIP, it has 3 intermediate positions that are created in automatic mode (positions available in the EMSTEEL1M, TITANIUM1, TITANIUM5, TITANIUM10 transmitters), in addition to a fourth preferred user point easily created from the remote control and the standard upper and lower end points
Comfort and Safety:

Motor JE50R4ZIP can be used in combination with the SW4 device, so it can be fully automatic. When the brightness exceeds the selected range, the zipscreen is extended to protect us from excess solar radiation, being closed when said brightness falls. At the same time, we can protect the awning from strong gusts of wind, thanks to the SW4 anemometer, since once the wind range is exceeded, the zipscreen will be collected automatically
SW4, how it works?:
Fully automatic operation, interaction with the wind:

The sun sensor (once the brightness range is exceeded) send a command to extend the awning
While the awning is open, a gust of air causes the awning to retract
After 10 minutes without air and if brightness is above the programmed level, the awning is extended again
When night falls, when the brightness falls below the programmed the awning is collected
A next day, after the brightness exceeds the set, the awning is extended
...
Fully automatic operation, interaction with low brightness:
Automatic operation with user interruption:
Operation after having disabled and enabled the sun (EMSTEEL1S):
Wiring options:

Technical data:
| | | | | | |
| --- | --- | --- | --- | --- | --- |
|   | JE50/10 | JE50/20 | JE50/30 |   |   |
|   NM | 10 | 20 | 30 |   |   |
|   RPM | 17 | 17 | 17 |   |   |
|   TURNS | ∞ | ∞ | ∞ |   |   |
|   V~HZ | 230~50 | 230~50 | 230~50 |   |   |
|   A | 0,68 | 0,84 | 0,95 |   |   |
|   W | 155 | 203 | 226 |   |   |
|   MIN | 4 | 4 | 4 |   |   |
Main shaft adapters:
ST0905CA - Ogive 70 (Gaviota):

ST0910A - Ogive 70 Eccentric:
Main motor brackets:
Motor head adaptable to the awning supports:
Motor with aluminum head and two threaded holes (M6) with 48mm interaxe for the different standard supports of the awning manufacturers: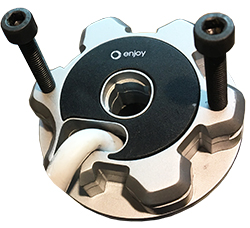 Traditional bracket with spigot:
with enjoy, command your home

wherever you are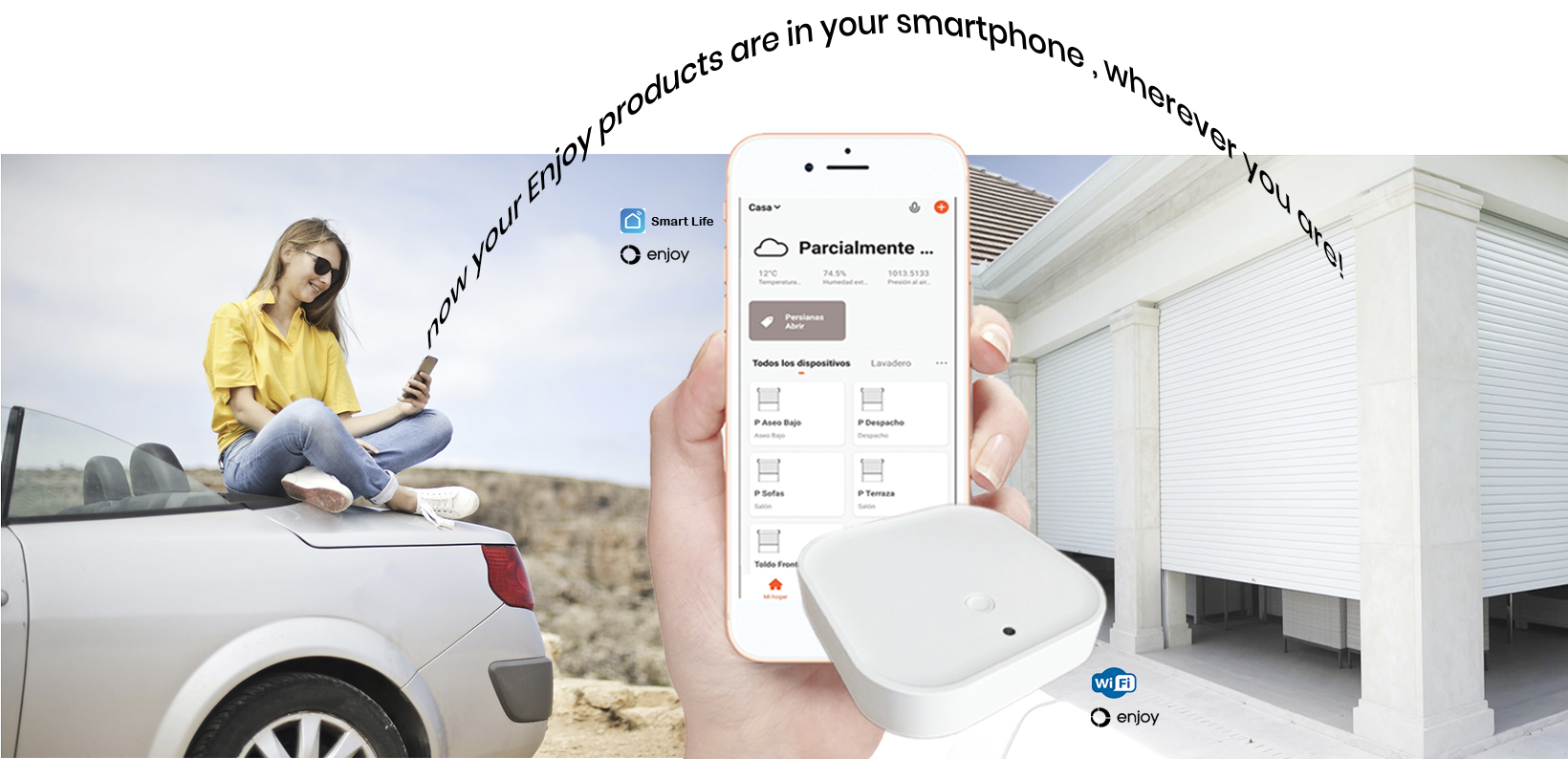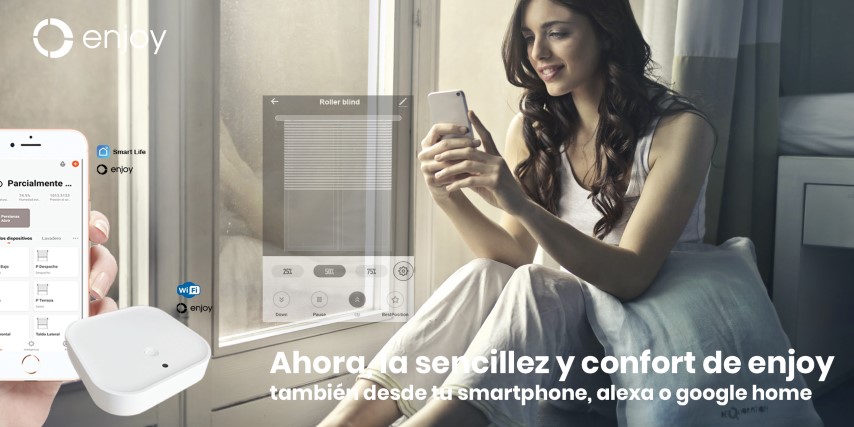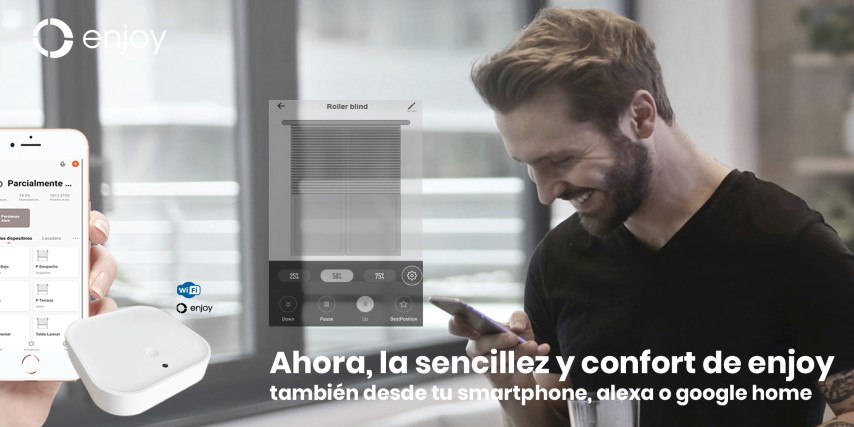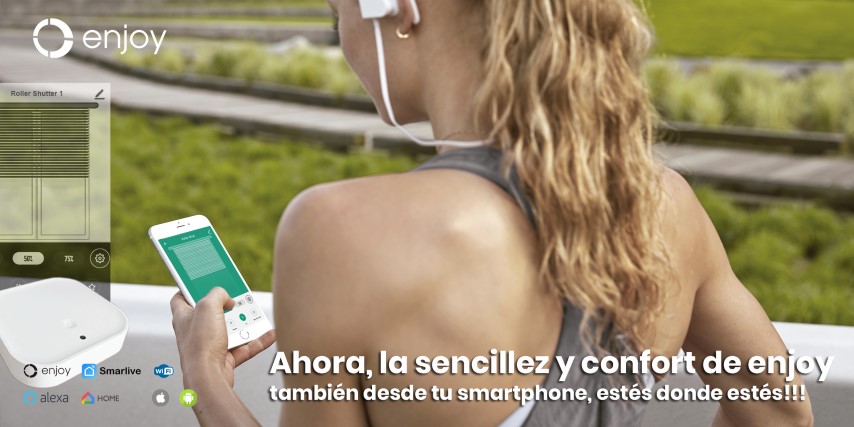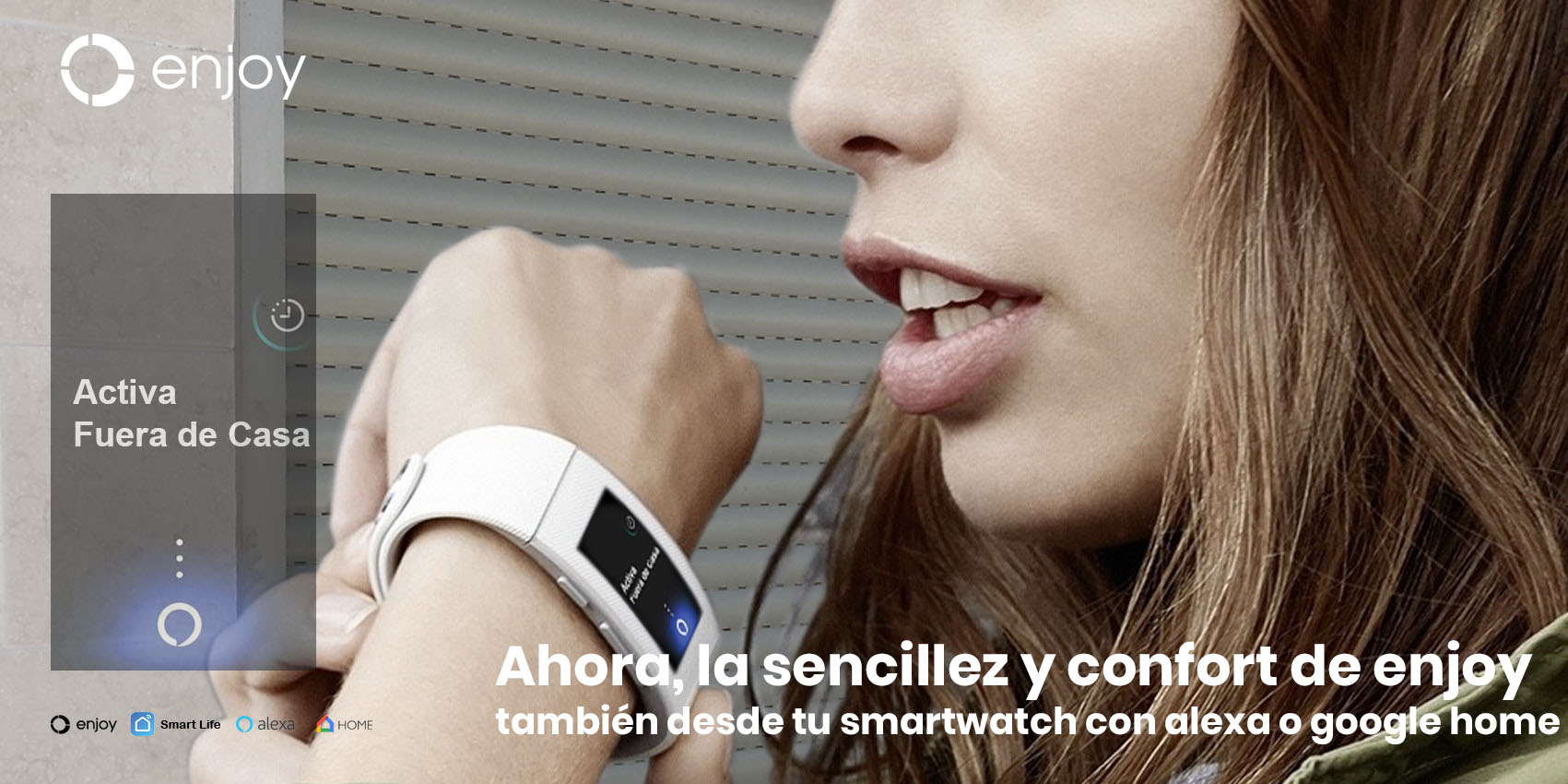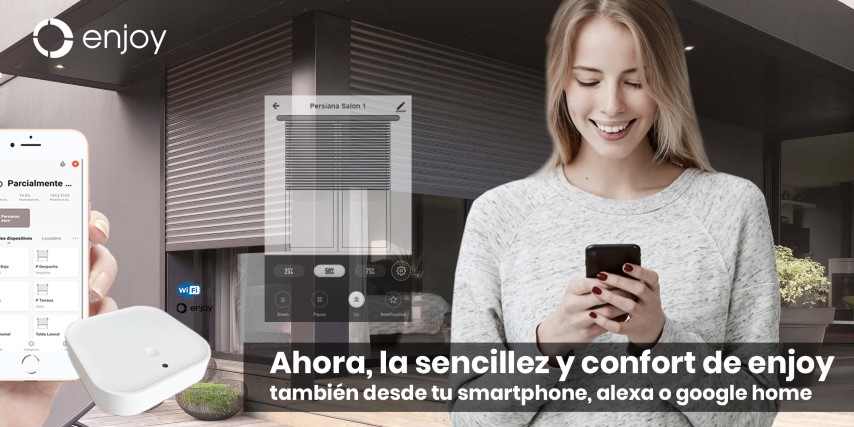 Do you have motorized systems with ENJOY R4 products at your home? now, it is really easy and simple to command them from your smartphone (Android or iOS). Besides, our hub GWE with the app Smart Life are compatible with Alexa and Google Home, so you can also open or closed your roller shutters, awnings, blinds, ... simply with voice commands